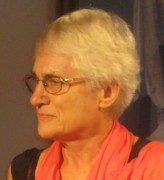 Katherine Knight
PHA NSW Accreditation
Graduate
About
Katherine Knight retired as Executive Director of Artswest Foundation Ltd in 2003 after 30 years of arts and cultural support, promotion and advocacy in western Sydney. This had included 20 years of publishing the monthly newsletter, Artswest, a ministerial appointment to the NSW Arts Advisory Council, and consultancy to tourism and local government authorities. After graduating with two master's degrees (one in history) from UWS Nepean in the 1990s, she was accepted as a graduate member of the Professional Historians Association (NSW). Her history of arts activism in western Sydney - Passion Purpose Meaning - Arts Activism in Western Sydney was published by Halstead Press, March, 2013.
Katherine's blog Western Sydney Frontier, launched in 2014,provides regular updates on arts activism in western Sydney. http://westsydneyfront.wordpress.com/ Contemporary art forms express the region's frontier nature as it works out the multicultural experience on a daily basis. History and contemporary arts intersect in many undertakings like the Parramatta Female Factory Precinct: Memory Project and Blacktown Arts Centre's The Native Institute exhibition.
Area of Expertise
Arts and cultural development in western Sydney.
Publications/Past Work
From 1981 to 2002 published a monthly newsletter under variations of the title Artswest. From 1985 to 1988 Artswest was published in nine Cumberland (now NewsLocal) newspapers in Sydney's Greater West, giving it a monthly circulation of 482,000.
In 2004, commissioned by Blacktown Arts Centre to research two papers for the regional project Western Front.
In 2005 was funded by Parramatta Council to complete a research report on aspects of social activism and the arts in Parramatta 1972 to 1988.
Passion Purpose Meaning - Arts Activism in Western Sydney, published by Halstead Press, was officially launched at Riverside Theatres, Parramatta, March 11, 2013. The independently financed history describes how passionate individuals generated critical change by creating opportunities for others in arts and cultural expression across Sydney's most dynamic region, with a focus on the period from the 1970s to 2013. The region has already been called the demographic centre of Sydney. This book makes a strong case that the cultural centre is moving west too.
Phone (02) 9211 3033 or (02) 9630 7426
Email: halstead(at)halsteadpress.com.au or knightka(at)iprimus.com.au
The blog Western Sydney Frontier http://westsydneyfront.wordpress.com/ continues these stories, provides links to many people and events, and gives more information about the book and its availability.