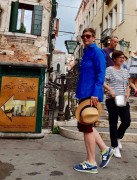 Therese Sweeney
PHA NSW Accreditation
Associate
About
Contact: therese@thesweeneystudio.com
25 years experience as: Writer. Photographer. Media & Film Technician. Artist. Oral Historian. Archivist. Researcher. Engagement Specialist. 
South Coast Cultural Media Ink: Operating on the South Coast of NSW; Producing regional, industry & community digital histories as:
- digital archives & new media content, podcasts, for social media platforms, publishing & exhibitions. Digital content as cultural  assets for future generations. To educate, train & inspire.
-Training programs & delivery to residents & school students in equipment & new media recordings, and storytelling/scripting  to empower toward a cultural production industry.
-Project Management & Consultant:  to recruit necessary technical & history professionals to undertake project work.
-Engagement specialist & project management at highest level of expertise.
Publisher : Sweeney Ink- Writing & producing family, community & company histories and life stories.
Online archives:
sweeney.lib.uts.edu.au
Archive hosted by UTS, Pioneers of the Fringe 94-2014 Sth West Sydney.
Desc: 1994-2014-20 years multi media layers & historical research on fringe communities in south west Sydney. Extensive documentary & portraiture photography; sound recordings as oral histories and aural soundscapes; short documentaries & video installations; video clips.
Desc: 2008-2012-Initiative to capture life stories on pioneering migrant market gardeners from south east europe through digital media engagement and archive collection.
Belgenny Farm Oral History Project- 2011-2017, Oral historian researcher photographer, engage workers from 20th century in sound recordings, 75 people in total. Archived at State Library NSW
Area of Expertise
Skilled oral historian, writer, photographer & video documentary producer & director, researcher. 25 years experience in new media project work, engaging large populations in historical processes. Initiator of complex project work and private commissions. 30 years experience in research & analysis. Excellent communication & human resource skills engaging residents, communities, public figures, politicians and company executives to produce industry histories, regional works & individual stories through exhibitions, publications and online archives .
Publications/Past Work
Major Exhibitions & Project History
Book Commissions:
2016-2018- Farming was our University, The Perich Family an Oral history by Therese Sweeney (380 pages). National library
2018-19-A journey from Pasman, The story of Biserka Skontra, an Oral history by Therese Sweeney ( 220 pages).
2015-19 Camden Park Estate, The Community Story, an Oral history by Therese Sweeney. Edition 1-sold out 2018. Currently writing 2nd Ed.-2019.
2019-Marriage-Love-Law, Penrith Regional Gallery, 30 March-16 June 19 by State Archives. Photographic image-Wedding portrait, West Hoxton, 2001.
2018-Guest speaker, Verge gallery University of Sydney, Nov 18, Artists & Oral History, Chaired by Dr Paula Hamilton. recorded by Verge Gallery on website.
2018: Invited artist/ to submit artwork for Mental Health Week July 18. Shoalhaven Regional Gallery. Title: Live a little (image of 14 newborn ducklings), paper, gyprock and wood.
2017: Duhk-ling: photographic portrait series, Shoalhaven Regional Gallery.
1994-2014-'On the Fringes, South West Sydney, multi media archive hosted by UTS library as an open learning source.
2014-Oral histories from Camden Park Estate-The Community Story: a publication (written & edited). Extensive sound, photography project interviewing 50 worker's archived at national standards.
2014-Creative Moments : Shoalhaven Arts Centre. Group show. Video projections and photography.
2008-2014-Pioneers of the Fringe: launched multi-media online archive. Preparation, curatorial & online production content on forty migrant market gardeners for www.memorybank.org.au.
2013- Autumn Show, Group exhibition, Harrington Street gallery (Co-Op), Chippendale. Painting.
2013-Oral history mentor-Lightening Ridge Consultant. Developed & presented training to community.
2012: Pioneers of the Fringe South West Sydney -20 min. documentary on migrant market gardener's. Screened to the local community at Austral Bowling club.
2012: Photography mentor: UTS Social leaders group, Shopfront.
2011-2017-Belgenny Farm Oral history project, Consultant oral historian. Extensive sound recordings , photography & digital archiving.
2011: Made on the Kitchen Table, Casula Powerhouse-Photography.  Photography mentor , course delivery & curatorial vision. Trained16 indigenous women from south west Sydney & set up a not-for-profit for them.
2011-'Eat' History week-OHAA (NSW)website exhibition-sound bites.
2010: Our Migrant farmers, Group show. Casula Powerhouse, 2 x 3min video installations, artist. Liverpool Bicentenary.
2010: Tomato Stories, Solo exhibition in theatre, Casula Powerhouse, Forum interviewing a panel of six migrant farming women & 7min film, 'Tomato Stories' screened. Video artist and panel host.
2010-Memory Bank launch, Casula Powerhouse. Official launch of organisation by Noeline Brown, Ambassador for Ageing. Attended by local, State and federal MP's and the community.
2008-2013-Pioneers of the Fringe-Extensive oral history & photography campaign with pioneering residents in Leppington, Austral and the pioneers of the six public housing estates tagged, 'Green Valley'.
2008: Intimate Moments, Solo exhibition. Video projections Liverpool CBD, 4 x 4min video installations, Video artist.
2007: Conversations at the Diner-Solo exhibition. Sound (oral histories), text & photography project on the New York Restaurant. Exhibited across 3 sites in Kings Cross, including City of Sydney libraries.
2007: Riotous Suburbs: Cross Art projects, Group show, Kings Cross. Photography in the community of Macquarie Fields.
2007: Love & Music-8min documentary, ageing dramatic soprano from 'the Diner'. Screened at Chauvel and 2 film festivals.
2007-'New Angles@ Macfields', Glenfield Library. Residents group show, photography. Photography mentor and curator to residents on the estate for six month period with partner WorkVentures.
2007: Greetings from Macquarie Fields postcard series, Residents photography. Curator of slideshow, Campbelltown City Arts Centre.
2007: Photographic mentor: to residents from Airds Estate. Residents exhibition at local community service.
2005-06: Bringelly City on the Edge: Solo exhibition. Narellan Library, Hawkesbury Regional Gallery, Liverpool Library. Solo show. Photography and Video on contemporary market gardens.
2006-Tunnel Vision, Greed & Stupidity: Cross Art projects; Group show. Video installation x 2.
2006: Light, Stills, Emotion: Educational Card series-Photographic mentor to young women-Liverpool Women's Health Centre.
2005: Photographer, "Simon packs coriander ', selected for Sydney Life. Large scale canvas exhibition in Hyde Park, City of Sydney.
2005-Kids Own Creation, Liverpool library.  Solo exhibition. Photography, large panels.
2004: Women shoot West, Liverpool Hospital. Residents photography. Photography mentor and curator to residents from Liverpool Women's Resource Centre, Ashcroft.
2004-Reframing the Valley, 10 year retrospective, solo exhibition Leichhardt library, photography. Curator Liz Muller.
2001-After the Bell & New Girl, A series of documentary video's, mentored 12 young women at Miller. Course developer, facilitator and Producer .Project ran for 3 months and achieved awards at Local & State festivals & nomination for National award (ATOM).  Fellowship awarded from Shopfront UTS & NSW Dept. for Women.
1997-Fibro, Perspecta 97, Casula Powerhouse, group show.  22 Photography panels.
1997-South West Series, Photography Curator State Library of NSW, selected & purchased a block of photography to archive as prints. Photography and printing.
1996-1999 Leichhardt series, Photography Curator, State Library of NSW, selected & purchased a block of photography to archive as prints. Photography and printing.
1994-Legal Walls, Casula Powerhouse. Documentary photographer for project. Slideshow and booklet.
1994-2014-Photography study, South West Sydney project. Photographer.
Previous work -11 years inNSW Government, Various roles in Human Resources & OH&S. Resigned as Snr Policy Analyst, Legal Aid Commission in 91.