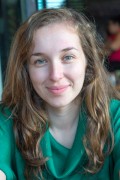 Nicole Cama
PHA NSW Accreditation
Associate
About
Nicole completed a Bachelor of Arts with First Class Honours in History at the University of Sydney in 2009. Her thesis, Defining the 'Strano': Madness in Renaissance Italy, explored the different ways madness was defined and treated in that period.
Since then, she has worked for Sydney University Museums covering all three collections of the University Art Gallery, Macleay and Nicholson Museums. At the Australian National Maritime Museum, as Curatorial Assistant Digitisation and later Digital Curator, her role included research and interpretation of the museum's collection for publication online and in print, and social media and community management. She was also project curator of two exhibitions including #HoodsHarbour and the Warships Pavilion project.
Nicole is now a freelance historian and has worked on numerous projects for the City of Sydney, Dictionary of Sydney, IP Australia and PlayStation.
Email: nicole@nicolecama.com.au
Connect: Twitter, LinkedIn, medium, about.me
Area of Expertise
Social history
Public history with a particular focus on Sydney's history
Publications/Past Work
Publications (online and print):
Media appearances: