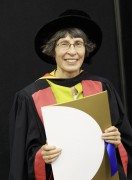 Caroline Cosgrove
PHA NSW Accreditation
Professional Member
About
I have worked as a historian/heritage consultant for over 20 years. As a consultant to the National Trust of Australia (ACT), I  prepared assessment reports to nominate places to the ACT Heritage Register. I also completed historical research and recommendations for conservation management plans, heritage studies, interpretation plans, an exhibition and tour brochures. As a member of the ACT National Trust's Heritage Committee and its Council, I provided oral reports of my work at meetings and advised on other heritage nominations. I also carried out community consultation, and wrote articles about, and co-presented tours of, some of the places that were successfully nominated to the Register.
I researched and wrote historical content as part of a Cultural Map of the ACT, a website jointly sponsored by the University of Canberra and the Planning and Land Management Division of the ACT Department of Urban Services.
While living in South Australia from 2002-2012, I worked with other professionals, either individually or in teams, to complete several heritage studies and surveys, as well as undertaking various projects requiring historical research and significance assessment. I also co-wrote a history of the National Trust of South Australia.
In 2007 I was awarded a Built Heritage Research fellowship, jointly sponsored by the Architecture Museum, University of South Australia and the Department for Environment and Heritage, to undertake a research project on South Australian Art Deco architecture. I completed a report and published a monograph on the study in 2009.
My PhD thesis, entitled 'The architectural practice as a professional service firm: HASSELL', completed in 2014, was the outcome of the first major project in Australia to examine a high-profile national architectural firm from an organisational perspective. HASSELL  provided a scholarship to fund this research in a partnership agreement with the University of South Australia.
CONTACT DETAILS
email: caroline.cosgrove@icloud.com
phone: (Mobile) 0427618484
Location: Bundanoon  NSW
Area of Expertise
Historical research and writing
Analysis and assessment of built heritage significance, including heritage studies, heritage surveys, site assessments and heritage impact assessments.
Oral history
Project design and management
Editing and proof-reading
Presentations at conferences and seminars and speaking to the public, including on history tours
Publications/Past Work
Caroline Cosgrove (2016) 'Writing the history of a professional service firm: The Australian architectural practice HASSELL', Circa: The Journal of Professional Historians, Deakin, ACT, Issue five, pp. 2-9
C. Cosgrove (2012), 'Modernism and survival strategies: HASSELL's architecture in the Twentieth Century', 11th Australasian Urban History/Planning History Conference, University of Western Australia, Perth, pp. 78-96
Caroline Cosgrove (2011) 'Rethinking Modern Architecture: HASSELL's contribution to the transformation of Adelaide's Twentieth Century urban landscape', The Flinders Journal of History and Politics, Adelaide, Volume 27, pp. 56-81
Carol Cosgrove (2009) Moving to the Modern: Art Deco in South Australian Architecture, Architecture Museum, University of South Australia, Adelaide
Donovan & Associates (member of team) (2009) 'City of Adelaide Heritage Survey 2008-09', report to Adelaide City Council, South Australia
Historical Research Pty Ltd, Adelaide (Peter Bell, Carol Cosgrove, Susan Marsden & Justin McCarthy) (2008) 'Twentieth Century Heritage Survey of South Australia, Stage Two (1928-1945)', Volumes 1 and 2, South Australian Department for Environment and Heritage, Adelaide
Carol Cosgrove and Susan Marsden (2005) Challenging Times: National Trust of South Australia 50th Year History, National Trust of South Australia, Adelaide
Susan Marsden, Carol Cosgrove and Robyn Taylor (2004) 'Twentieth Century Heritage Survey of South Australia, Stage One (1946-1959): Overview History', South Australian Department for Environment and Heritage, Adelaide
Co-author of the following studies for ACT Heritage (on behalf of the National Trust of Australia (ACT):
(2002) A Heritage Survey of the village of Tharwa, ACT
(2001) Duntroon Dairy, ACT, Conservation and Management Plan and (2002) Interpretation Plan
(2002) Glenburn Precinct (homestead, shearing shed, Colverwell graves), Kowen, ACT,  Conservation and Management Plan
(2000) Bass Gardens, ACT, Conservation and Management Plan
(2001) Pisé Places in the Australian capital Territory
(2001) An oral history of Lyall Gillespie, Canberra historian
The following articles for the National Trust of Australia (ACT) magazine, Heritage in Trust:
Winter, 2001: ''Bass Gardens, ACT'; and 'Vignettes of early Canberra' (joint author)
Summer 2000: 'Palmerville (Ginninderra Estate)
Spring 2000: 'Blythburn'
Summer 1999: 'Weston's Legacy: Yarralumla Nursery'; 'The Australian Forestry School'; 'Westridge House'
Winter 1999: 'Hall Village'
Autumn 1999: 'A tale of two villages: the story of Hall and Ginninderra'