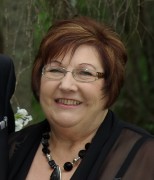 Carol Roberts
PHA NSW Accreditation
Professional Member
About
Carol Roberts is a cultural heritage tour designer and guide in the Hawkesbury area (Hawkesbury Valley Heritage Tours). She also runs a business called Advancing History, offering oral history, research, local and social history and cultural heritage services. Carol worked for many years in executive administration for Department of Defence (RAAF) and then in executive administration and cultural services for the Mayor and Councillors of Hawkesbury City Council. After leaving full-time employment Carol has been actively involved in community and arts environments in the Hawkesbury area for several years, her main interests being heritage conservation,  local history, oral history, music and art.
Carol has a Master of History (UNE Armidale, NSW), a Bachelor of Arts Majoring in Australian History and an Advanced Diploma in Local, Family and Applied History. She also has an Associate Diploma in the Theory of Music, Literature and Criticism from Trinity College of Music, London and is a relief organist at several churches in the Hawkesbury district. She is currently researching and compiling a book of Greg Hansell's paintings of the Hawkesbury area, focusing on the links between sense of place and depiction of heritage sites. Her research over recent years has focused on the Hawkesbury and links between art and history. Carol is also involved in recording the history of families in the Kurrajong area with the Colo Shire Family History Group. Descended on her mother's side from six convicts in the Hawkesbury, Carol has a direct line of descent from John Grono who arrived in the colony in 1799 and James Wilshire and his wife Esther (Pitt) who arrived in 1801. In November 2011, Carol purchased Hawkesbury Valley Heritage Tours and she provides a step-on heritage tour guide service for coach groups and visitors to the Hawkesbury region.  She is also currently writing a booklet on the history of St Matthew's Anglican Church for the bicentenary of the church in 2017.
Area of Expertise
A qualified, specialist tour guide and tour designer, Carol is experienced in presenting interpretive activities, as well as researching, recording and presenting public history programmes aimed at imparting the history of the Hawkesbury area to visitors.  Carol's highly developed interpersonal, good listening and negotiation skills have regularly been put to good use working with federal and local government organisations and committees. She is experienced in adhering to the concept of 'good practice' in community cultural development and has the ability to draw out details and findings from complex projects. 
With advanced communication skills, Carol has excellent historical research skills and is adept at heritage assessment and heritage interpretation using significance criteria. She is also experienced in heritage/arts grant application preparation and processes and has secured several successful grant applications for history/heritage projects. A prolific writer, Carol possesses advanced report, technical and academic writing skills and contributes regularly to several journals and newsletters. She has also been involved either as an author or contributing author on several publications and is an experienced speaker and presenter.
Publications/Past Work
Contributing author to Greg Hansell: Survey catalogue, Hawkesbury Regional Gallery, 2009.
Contributing author to Spanning the centuries of Hawkesbury's history: special bicentenary issue – Lachlan Macquarie, Journal of the Hawkesbury Historical Society Inc, No 2, Windsor 2011.
Author/compiler presentation book for artist Brian Jones Retrospective Exhibition, A Kick in the Arts, 17 to 19 June 2011.
Contributing author to 'She said: He said:' Reading, Writing and Recording History, Oral History Association of Australia Journal No 35, Adelaide 2013: And you're still speaking to each other: Drawing the line between friendship and oral history.
Contributing member of Family History Group Committee of Kurrajong-Comleroy Historical Society publication, St Stephens Church Kurrajong, Parish Registers 1861-1902, Penrith 2013.
Contributing author to 'She said: He said:' Reading, Writing and Recording History, Oral History Association of Australia Journal No 36, Adelaide 2014: From the ground up: exploring the use of oral history in tourism.
Contributing author to Journal of the Hawkesbury Historical Society Inc, No 3, Windsor 2014.
Contributing author to Independent Scholars Association Australia Review: Shedding new light on sense of place, 2015.
Researching and writing book in conjunction with artist Greg Hansell, using the artist's paintings of the Hawkesbury area.
Researching and writing booklet on history of St Matthew's Anglican Church, Windsor, for Bicentenary celebrations in 2017.