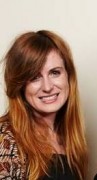 Minna Muhlen-Schulte
PHA NSW Accreditation
Associate
About
Minna Muhlen-Schulte is the current recipient of the Berry Family Fellowship at the State Library of Victoria and Program Support Officer with the Visual Arts, Literature and Museums team at Arts NSW. She has worked on a range of history projects for community organisations, local and state government including the Victorian War Heritage Inventory, Museum of Australian Democracy at Eureka (M.A.D.E) and Mallee Aboriginal District Services. In 2014, Minna developed a program on the life and work of Clarice Beckett for ABC Radio National's Hindsight Program.
Minna has a BA (Hons I) in English Literature and Art Theory from University of NSW (2009) and a Masters in Public History from Monash University (2014).
Area of Expertise
Public and community history projects, war heritage, 20th century German-Australian migrant history.
Publications/Past Work
Radio, Podcasts, Presentations
Creative Conversations: Crossing Enemy Lines, State Library Victoria, 24 September 2015
Producer of Between Sea and Sky, radio feature documentary for ABC Radio National's Hindsight program on the life and work of Victorian artist Clarice Beckett, broadcast 17 August 2014
Emerging Historian's Talk, Professional Historians Association of Victoria and Royal Historical Society of Victoria, 21 July 2015
Museums
Curatorial Team: research and interpretive text for multimedia displays at the Museum of Australian Democracy at Eureka, 2013
Community Development
Research and writer, Victorian War Heritage Inventory, Veteran's Unit and Heritage Victoria, 2010
Online copy and transcript editor for the online history project Veteran's Digital Stories 'In Our Words', Veteran's Unit, Shrine of Remembrance and Australian Centre for the Moving Image, 2011
Professional historian researching individuals for   Surveyor General's Office of Victoria, 2011
Professional historian, Interpretive Framework (thematic overlay, signage and public art), Mildura Riverfront Redevelopment, Mildura Rural City Council, 2013-2014
Professional historian, Celebrating Mildura's Aboriginal Culture, Mallee Aboriginal District Services, 2014