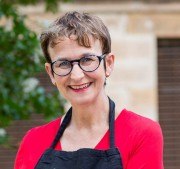 Jacqui Newling
PHA NSW Accreditation
Professional Member
About
Jacqui Newling is a graduate of Le Cordon Bleu Masters in Gastronomy (2007) through the University of Adelaide and specialises in Australian colonial foodways.  Jacqui continues post-graduate studies as a PhD candidate in history at Sydney University, researching food in the early colonisation of New South Wales (1788-1795), supervisors Penny Russell and Mark McKenna.
Jacqui works in the public history sector as an interpretation curator at Sydney Living Museums and uses food as means of communicating history and historical concepts. As SLM's 'resident gastronomer' Jacqui hosts regular Colonial Gastronomy programs, is 'The Cook' in The Cook and the Curator blog which was short-listed for the NSW Premier's History Award (Multimedia) 2013, and co-curated the 'Eat your history: a shared table' exhibition (Museum of Sydney 2013-2014).
Her book, 'Eat your history, stories and recipes from Australian kitchens' (Sydney Living Museums and NewSouth Publishing 2015) which received a National Trust NSW 2016 Highly Commended Award, Publications.
Area of Expertise
Australian foodways and food culture 1788 – 1950; early NSW settlement period 1788-1795; early settlement period of Norfolk Island 1788-1792; NSW convict and early settlement periods 1788-1840s; 18th and 19th-century social and cultural history; museum interpretation, public programming and exhibition curating; writing for public consumption across various media.
Publications/Past Work
Eat your history, stories and recipes from Australian kitchens. Sydney Living Museums and NewSouth Publishing (2015)
'Eat your history: a multi-faceted interpretation and access concept at Sydney Living Museums' in Food in museums with Scott Hill (Sydney living Musuems) Bloomsbury Scholar. (Due for publication December 2016).
'Phillip's table: food in the early Sydney settlement' proceedings from Phillip 200 symposium (2014). Dictionary of Sydney online journal. (Due for publication 2016)
 'A tale of two Sydneys: the peril of provisioning Norfolk Island' in Signals, National Maritime Museum Australia, Spring 2014
'Stories from the Governor's table' proceedings of the 19th Symposium of Australian Gastronomy (2013) in The Aristologist: an Antipodean journal of food history. (2014) pp 95 -108. 
'Sweet Tea, Drank Universally? A Gastronomic Study of the First Fleeters' Native Tea Alternative' in Eat History: Food and Drink in Australia and Beyond. Cambridge Scholars Publishing. UK. (2013). pp 88-104.  Proceedings from the Eat History Symposium 2011 State Library NSW (Macquarie University & History Council NSW)
'A Universal Comfort: Tea in the Sydney Penal Settlement' in Locale: The Australasian-Pacific Journal of Regional Food Studies, Vol 1 Number 1, 2011
'Dining with Strangeness: Food Choice and Foodways in Eora Country' in Journal Australian Colonial History Vol 13, January 2011
'Foodways unfettered:  eighteenth-century food in the Sydney settlement' (unpublished) Masters of Arts in Gastronomy dissertation.