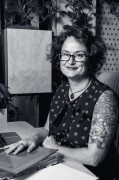 Naomi Parry
PHA NSW Accreditation
Professional Member
About
I'm a social historian with a passion for good writing that tells stories to general audiences. My specialties are community history, Aboriginal history, and digital history. I can work alone and also enjoy collaborating with other historians, writers, archaeologists and architects. I am an accredited member of the Professional Historians' Association of NSW & ACT.
As a consulting historian I have researched all sorts of things; building and site histories, the industrial and migration heritage of Lithgow, social history, women's history, migration, missions to Aboriginal people, and the significance of the surviving set of Skippy The Bush Kangaroo. I have also published a wide range of academic and other writing.
From 2011 until 2014 I worked full-time as the NSW historian on the Find & Connect web resource, an Australian Government-funded digital history and archiving project led by the Australian Catholic University and University of Melbourne eScholarship Research Centre. I've been a contributor and project editor at the Dictionary of Sydney and a regular presenter for the History Council's Speaker Connect programme.
My first book, New South Wales and the Great War, written with Brad Manera, Will Davies and Stephen Garton for the NSW Centenary of Anzac, was released in November 2016 and has been sent to every public and Catholic school in NSW. I appeared on Who Do You Think You Are with David Wenham (Series 6, Episode 4, 2015), am a regular speaker for the History Council of NSW's Speaker Connect programme, have spoken at a wide range of conferences, and my work on Musquito has been featured on Radio National's Hindsight.
I have a PhD in Australian History from the University of New South Wales, and degrees in arts and education from Macquarie University and the University of New South Wales. In 2015 I received a National State Library of NSW National and State Libraries Australasia Honorary Fellowship and was shortlisted for the Writers' Victoria Hazel Rowley Literary Fellowship. In 2005 I was awarded a Varuna Dr Eric Dark Fellowship.
Area of Expertise
Australian social history
Indigenous histories, from 1788 until the era of the Aborigines Protection Board
New South Wales and Tasmanian history
Digital history and websites
Editing and publishing services for historians and historical writing
Significance assessments and conservation management plans
Building and site histories
Migration heritage
Publications/Past Work
Naomi Parry and Brad Manera with Will Davies and Stephen Garton, New South Wales and the Great War, Haberfield: Longueville Media, 2016. ISBN 978-0-9943863-7-3
Book sections and academic articles
'From the island to the mainland (and back?), in Dee Michell, Jacqueline Z Wilson, Verity Archer (eds), Bread and Roses: Voices of Australian Academics from the Working Class, Rotterdam: Sense, 2015
'Tracing the past: the Find & Connect web resource', in Paul Ashton and Jacqueline Z Wilson (eds), Silent System: Forgotten Australians and the institutionalisation of women and children, Melbourne: Australian Scholarly Publishing, 2014
'Stolen Childhoods. Reforming Aboriginal and Orphan Children through Removal and Labour in New South Wales (Australia), 1909-1917', Revue d'histoire de l'enfance «irrégulière», Volume 14, 2012
'"Hanging No Good for Blackfellow": looking into the life of Musquito', in Ingereth Macfarlane & Mark Hannah (eds.), Transgressions: critical Australian Indigenous histories, Canberra: Aboriginal Studies Press, 2007
'My mother told me never to part with them', in Dianne D. Johnson, Sacred Waters: the story of the Blue Mountains Gully traditional owners, Broadway: Halstead, 2007: 151-158
Maria Lock, Australian Dictionary of Biography: Supplement 1580-1980, Melbourne: Melbourne University Press, 2005
Musquito, Australian Dictionary of Biography: Supplement 1580-1980, Melbourne: Melbourne University Press, 2005
(with Caroline Evans), 'Vessels of Progressivism?: Tasmanian state girls and eugenics, 1900-1940', Australian Historical Studies, Volume 32 (117), October 2001: 322-333
Consultancies
(with Ray Christison of High Ground Consulting) Lithgow Migration History, for Lithgow City Council and the Migration Heritage Centre, 2014
History of Warangesda Aboriginal Mission for High Ground Consulting's Conservation Management Plan for the Warangesda Aboriginal Mission site, 2014
Interpretive signage design, text and images for Eskbank House and Museum (Lithgow City Council), 2014
Script consultancies for Who Do You Think You Are (Artemis Films 2013-2014) and First Australians (Blackfella Films 2008)
Lithgow History Avenue, 2013
Significance Assessment of the Skippy Collection, with Milliss and Carlsson for International Conservation Services, 2013
History of Eskbank House for Integrated Design Associates' Conservation Management Plan for Eskbank House, 2011