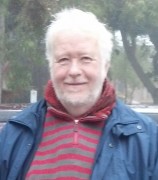 Iain Stuart
PHA NSW Accreditation
Professional Member
About
My experience in history, archaeology and heritage management, for over 25 years, has been in both private industry and in Government. Most of my historical work supports my practice as part of JCIS Consultants, which covers the broad fields of Historical Archaeology, Heritage, Cultural Landscapes and Industrial Heritage. I also provide historical advice as part of a team preparing heritage assessments and management documents.
The basis of the best heritage assessments or a heritage management documents (such as a Statement of Heritage Impact or an Archaeological Assessment) is a really solid understanding of the history of a place or landscape as this forms the context for the assessment of significance and for heritage management.
I have a great love of history and sense of place. I enjoy the work of tracking down historical sources and still feel excitement and wonder when an unexpected source provides new information about the past.
I have a B.A. (Hons) (La Trobe University), Master of Environmental Science (Monash University) and a Doctorate on Squatting Landscapes of South Eastern Australia (University of Sydney). I am a member of ICOMOS (Aust), as well as being a member and elected board member of ASHA and of TICCIH.
Area of Expertise
Areas of Expertise
The main area of historical research that I practice is research into the history of land use (including houses and commercial buildings) usually to support heritage assessments such as Statements of Heritage Impact, Archaeological Assessments, Conservation Management Plan and Interpretation Plans.
I am very familiar with land titles research, research into crown plans, research into various forms of land occupation such as Soldier Settlement, Selection and Occupation/Leases.
Because I have expertise in Geographical Information Systems such as ArcGIS and QGIS, our reports can be presented with key historical information (such as the location of building or various activities) in the form of maps and plans which can be used to support historical research and integrated into other documents and analysis in the form of overlays.
Publications/Past Work
Publications/Past Work
A selection of papers and reports which I have written are available from my site on Academia.com (https://sydney.academia.edu/IainStuart ). Some representative publications are presented below:
Gell, P. Stuart, I.M. 1989 "Historical Impact of Fire in East Gippsland, Victoria". Monash Publications in Geography Monash University, Melbourne.
Gell, P. Stuart, I.M. Smith, D.J. 1993 "The response of vegetation to changing fire regimes and human activity in East Gippsland, Victoria, Australia." The Holocene 3(2):150-160.
Head, L., Stuart, I.M. 1981 "A Change in the Aire: Palaeoecological investigations of the Aire Basin". Monash Publications in Geography, Monash University, Melbourne.
Hosty, K. Stuart, I.M.F. 1994 Maritime Archaeology over the last Twenty Years, Australian Archaeology 39:9-19
Stuart, I. M. and Butcher, M. 2005. 'Building Materials', in M. Butcher and Y. M. J. Collins (eds.), Bendigo at Work: An Industrial History, Strathdale: Holland House, pp177-190.
Stuart, I.M. 1987 A Forgotten Squatter? J.S. Hensleigh at Bendoc. Gippsland Heritage Journal Vol 3 No 1 28-31.
Stuart, I.M. 1987 A History of the Brick Industry in Victoria 1826-1920. Australian Archaeology 24:36-40.
Stuart, I.M. 1989 "Why did the Hoffman Brick and Pottery Works stop making bricks?". The Australian Journal of Historical Archaeology, 7:29-33.
Stuart, I.M. 1991 "Glass Bottles from the Loch Ard: A preliminary study". The Australian Journal of Historical Archaeology, 9:31-36.
Stuart, I.M. 1992 "Stranger in a Strange Land: Historians and Historical Archaeology in Post Contact Australia" Public History Review, 1:136-147.
Stuart, I.M. 1995 "The History and Archaeology of the Hoffman Brick and Tile company, Melbourne, Australia, Industrial Archaeology Review,  17 (2):129-144.
Stuart, I.M. 1997 "Sea Rats, Bandits and Roistering Buccaneers, What were the Bass Strait Sealers really like?" Journal of the Royal Australian Historical Society 83(1) 47-58.
Stuart, I.M. 1997 Analysing Squatting Landscapes, Historic Environment 13 (3 & 4)
Stuart, I.M. 1998 "G.D. Smythe" " H.W.H. Smythe", in Forth, G. (ed) The Biographical Dictionary of the Western District of Victoria, Hyland House.
Stuart, Iain Malcolm. 1998. "Sealing and Whaling Seascapes." In The archaeology of whaling in Southern Australia and New Zealand, edited by Susan Lawrence and Mark Staniforth, 98-102. Gundaroo: Brolga Press for the Australasian Society for Historical Archaeology and the Australian Institute for Maritime Archaeology.
Stuart, I.M. 1998 To Kill a Muttonbird; Historic Environment 14 (2)
Stuart, I.M. 2005 Leopold de Salis' "spiteful" neighbour, Canberra Historical Journal, 55(March)  20-26.
Stuart, I.M. 2005 Of the Hut, I bolted: A preliminary account of prefabricated semi-cylindrical huts in Australia. Historic Environment 19 (1):51-56
Stuart, I.M. 2007 Crossing the Great Divide, Historical Archaeology 41(1):39-46
Stuart, I.M. 2007 The Surveyor's Lot: making landscapes in NSW Australasian Historical Archaeology, 25, 43-55.
Stuart, I.M. 2009 The Diffusion of the Quonsets to Australia (1942-1948), Construction History Society Newsletter No 85-12-14.
Stuart, I. M. 2010. Industrialised Nature and the green heritage of mining at Broken Hill. Industrial Patrimony: resources, practices, cultures 23:53-62.
Stuart, I. M. 2012. "Selection on the Cooleman Run, County of Cowley, New South Wales." Journal of the Royal Australian Historical Society 98(1): 75-98.
Stuart, I.M. 2012 "Identifying Industrial Landscapes" in Douet, James Industrial Heritage Re-Tooled: The TICCIH guide to Industrial Heritage Conservation, Carnegie Publishing Ltd