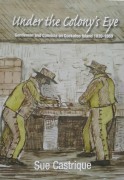 Sue Castrique
PHA NSW Accreditation
Professional Member
About
Sue Castrique is a researcher, writer and script editor whose work has been recognised with a number of awards.
Her book Under the Colony's Eye: Gentlemen and Convicts on Cockatoo Island 1839-1869, is about the penal settlement on Cockatoo Island and its bare-knuckle prize-fighting convicts, and was awarded the Kay Daniels prize by the AHA in 2016.
Her latest book launched in 2017 is One Small World: The History of the Addison Road Community Centre. The first chapter, 'On the edge of Gumbramorra swamp' was a major prize winner in the Wildcare Nature Writing awards in 2016.
Sue also has considerable experience as a writer and script editor for the screen.  She has written the historical documentaries Shifting Old North Sydney about building Sydney harbour bridge; the three part series Federation, and Flowers and the Wide Sea for television; and the feature documentary, Witch Hunt about the Greek conspiracy case. She worked with Tom Zubrycki on his latest documentary Hope Road; with emerging Indigenous filmmakers through the Call to Country initiative, and as the script editor on Buckskin and Mr Patterns.
Sue's work for the screen has received three Australian Writer's Guild Awards, an AFI  and Reuben Mamoulian Award.
Sue has a BA (Hons) from ANU and a BA (Scriptwriting)  from the Australian Film, Television and Radio School.
Contact:
Email: streak@iinet.net.au
Area of Expertise
Archival & library research. Script Editing. Scriptwriting for historical film and interactive media. Writing exhibition text.
Publications/Past Work
 Journal Articles:
'Sarah's Release: finding women's history in land title records', Royal Australian Historical Society, History Magazine, no 32, June 2017, p 8.
'A Short Note on Long Cove',  Journal of the Royal Australian Historical Society, vol 102, no 2, Dec 2016, pp 189-202.
'The Army at Addison Road', Heritage, Marrickville Heritage Society, no. 14, 2014.
'Under the Colony's Eye: Cockatoo Island and the Fitzroy dock, 1847-1857', Journal of the Royal Australian Historical Society, vol 98, part 2, December 2012.
'Beyond Text: reflections on historical television', Public History Review, vol 9, 2001.
'Add One Writer and Stir?', Media International Australia, vol 85, no 1, November 1997, pp 102-6.
Research:
Addison Road Talking History Project, for the Addison Road Community Centre, 2014.
Narrative Guide to the History of Cockatoo Island, for the Sydney Harbour Federation Trust, 2007.
Script Editing:
Hope Road - 90 minute documentary about Zacariah, a South Sudanese refugee as he tries to raise money for a school in his former village. Director Tom Zubrycki. JOTZ Productions 2017.
Buckskin - 30 minute documentary on Jack Buckskin and his mission to sculpt a new urban Aboriginal language and culture, ABC, Director, Dylan McDonald, 2013.
Call to Country - 4 x 30 minute documentaries by emerging indigenous filmmakers: Victor Steffensen, Ella Bancroft, John Harvey, and Kelli Cross for ABC TV and Screen Australia. 2012.
1606 & 1770:  A Tale of Two Discoveries, 50 minute documentary for History Channel. Bower Bird films, 2010.
Pure Drop - 11 x 6 minute interactive music documentaries. Director Thomas Ashelford. Ether Multimedia. AFC/ABC Innovation, 2005.
Mr Patterns - 55 minute documentary. Written by Jo Plomey and Nic Testoni, Reel World Productions. Film Australia. ABC TV, 2004. 
House for a Nation - 12 x ten minute documentaries, Parliament House Australia & Ronin Films, 2002.
Scriptwriting:
Shifting Old North Sydney - 25 minute documentary. North Sydney Heritage Centre. AWGIE Award, 2007.
Federation - 3 part x 50 minute documentary series. ABC TV. AWGIE  Award, 1999.
Flowers and the Wide Sea - 2 part x 50 minute documentary series on the Chinese in Australia, SBS 1993.
That's Formation - 58 x five minute interactive documentaries, Earth Exchange Museum. AWGIE Award 1992.
Witch Hunt, 90 minute documentary, SBS TV. AFI Award, 1987.
The Drover's Wife, Director, Sue Brooks. Reuben Mamoulian Award, 1985.
September '51, 25 minute drama about the referendum to ban the Communist party in 1951. Director, Ray Quint, 1984.