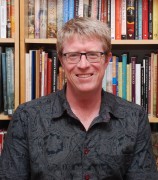 Mark Dunn
PHA NSW Accreditation
Professional Member
About
Mark Dunn is a historian with a wide range of experience in broad-based historical research and oral history.  He has a Masters degree in Applied History from the University of Technology, Sydney and a PhD from the University of NSW on the Colonial Hunter Valley.  Mark has collaborated on a variety of historical research projects for important heritage places around Australia, including Cockatoo Island, a range of Department of Defence sites and for government agencies including the CSIRO and Bureau of Meterology.
His specialist skills in historical research cover a wide range of applications and include a broad knowledge of source materials.  He has extensive experience in the use of local, state and national archival repositories.  Mark's research has covered both detailed and overview histories, oral history interviews, walking tours and interpretation signage.   Mark has also assisted with archaeological fieldwork and excavations.  He was a co-host for the Sydney History radio segment on radio Fbi 94.5, Scratching Sydney's Surface https://scratchingsydneyssurface.wordpress.com/.  He has appeared as an expert on Series 6, 7 and 8 of Who Do You Think You Are? Australia and consulted for television as a historian.
Mark is currently the Deputy Chair of the Heritage Council of NSW,  is Chair of the heritage Committee, NSW Heritage Office and was president of the History Council of NSW 2009-2012.
Area of Expertise
Heritage
Archaeology
Public History
Sydney History
Colonial Hunter Valley and Hunter River
Walking Tours
Publications/Past Work
Aboriginal Guides in the Hunter Valley, New South Wales, Brokers and Boundaries: Colonial Explorations in Indigenous Territory, Aboriginal History, ANU Press, 2016.