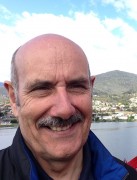 Robert Freestone
PHA NSW Accreditation
Professional Member
About
I am a professor of planning in the Faculty of Built Environment at UNSW.
I joined UNSW in 1991 after six years with Design Collaborative, a Sydney planning, research and heritage consultancy.
I held previous appointments in the NSW Department of Planning, Department of Geography at the University of Melbourne, and the Urban Research Program at the Australian National University.
I am a council member of the International Planning History Society and President 2002-2006.
I was elected a Fellow of the Planning Institute of Australia in 2005, the Academy of Social Sciences in Australia in 2008, and the Institute of Australian Geographers in 2009.
At UNSW I was Associate Dean Research in Built Environment from August 2013 to February 2017.
Area of Expertise
Specialty in urban planning history.
Publications/Past Work
Books published since 2010:
O'Callaghan, J, Hogben, P and Freestone, R (eds). (2016) Sydney's Martin Place: A cultural and design history, Allen and Unwin.
Freestone, R. and Liu, E (eds) (2016). Place and Placelessness Revisited. Abingdon: Routledge.
Freestone, R. and Amati, M. (eds) (2014). Exhibitions and the Development of Modern Planning Culture. Farnham, Surrey: Ashgate.
Tewdwr-Jones, M., Phelps, N., & Freestone, R. (eds) (2014). The Planning Imagination: Peter Hall and the Study of Urban and Regional Planning, Abingdon: Routledge. Retrieved from http://www.routledge.com/books/details/9780415506083/
Hibbard, M., Freestone, R. and Sager, T. (eds) (2013). Dialogues in Urban and Regional Planning 5. Abingdon: Routledge.
Freestone, R. (2010). Urban Nation: Australia`s Planning Heritage. Melbourne: CSIRO Publishing
 For a fuller biography and bibliography see - http://www.be.unsw.edu.au/profile/robert_freestone