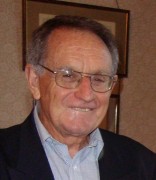 Bruce Pennay, OAM
PHA NSW Accreditation
Professional Member
About
A/Prof Bruce Pennay's interests focus on two broad topic areas: the cultural heritage of the NSW/Victorian border region, and post-war immigration history and heritage with particular regard to the Bonegilla Reception and Training Centre.
Bruce has completed regional histories and heritage studies for a number of local government areas. He has also conducted significance assessments of several museum collections. In 2009 the History Council of New South Wales awarded him the Annual History Citation 'in recognition of this contribution as a historian and practising heritage consultant, in particular his service to heritage and community history in regional New South Wales and  Victoria'. He was also awarded an OAM in that year, with a similar citation.
Books published include:
Sharing Bonegilla Stories, Albury Library Museum, 2012:
Making a City in the Country: The Albury-Wodonga Growth Centre Project, 1973-1995, University of NSW Press, 2006
Latest reports completed include:
Significance assessment: The Miles Franklin Collection at Tumut Museum in Miles Franklin Country, 2012.
(with Terry Kass) Arriving and Settling in New South Wales since 1947, Report and Thematic History, Heritage Office, NSW Department of Planning 2012.
Latest articles in scholarly journals:
'But no one can say he was hungry': Memories and representations of Bonegilla Reception and Training Centre, History Australia, April 2012.
Review Article: Picturing Assimilation in Post-War Australia, Australian Historical Studies forthcoming March 2013