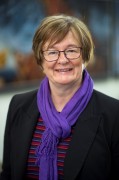 Jennifer Debenham
PHA NSW Accreditation
Professional Member
About
Jennifer Debenham
PHA NSW Accreditation
Professional Member
Qualifications:
2013 – Philosophy Doctorate, University of Newcastle, NSW
2004 - BA Hons History and Anthropology, University of Newcastle, NSW
1978 – Biological Technician's Certificate, Sydney Technical College
Contact: 5debos@ozemail.com.au
Area of Expertise
Professional historian with particular interest in social, environmental and Aboriginal history including local histories studies; maritime history; institutional histories (NGOs - social, cultural and welfare); thematic histories and heritage studies; significance assessments; and oral histories. Experience in medical research environment and ecological surveys.
Publications/Past Work
Commissioned Works and Reports
2012-2013 - Commissioned thematic history of the Aboriginal people of Cessnock Local Government Area: Cessnock Council
2009-2011 - Commissioned history of the Australia Day Regatta (1837-2011): Australia Day Regatta Committee
2009 - Commissioned oral history of Redfern and Inner City Home Support Services: Redfern and Inner City Home Support Services
Interpretive Signage: Water Police and Pyrmont Park, City of Sydney
Commissioned
2014 – The Australia Day Regatta, NewSouth Press.   ISBN: 9781742234021 (with Dr C. Cheater)
2011 - Neighbours Helping Neighbours: Redfern & Inner City Home Support Services (1989-2009), Redfern & Inner City Home Support Services, (with Dr C. Cheater)
Refereed Journals
2006 – "Stationary Cameras and Stilted Views: Technology, Anthropology and the Construction of Race at the Turn of the Twentieth century" in Boucher, L; Carey, J; Ellinghaus, K (eds.) Historicising Whiteness: Transnational Perspectives on the Construction of an Identity, Melbourne: RMIT Publishing in Association with School of Historical Studies University of Melbourne, 2007: 436 – 444.  EISBN: 9781921166808 <http://search.informit.com.au/documentSummary;dn=872301956200137;res=IELIND>
2005 – (with Dr Josephine May) "Making Connections: a dialogue about learning and teaching in a tertiary enabling program," Australian Journal of Adult Learning April Vol 45:1, 82-105
2005 - "All the President's Men: National Myth and Memory," Film and History, 2004-2005 Film & History CD-ROM Annual [CD-ROM] eds. Peter C. Rollins, John E. O'Connor, Deborah A. Carmichael.  Published: Tulsa, Okla.: James Digital Pub., 2005  ISBN:0974690538
Exhibits
2008 – Pyrmont Point Park Redevelopment – Consultant Historian – City of Sydney Council.  Signage (text and images).  Historical information guides in the parkland area.  Field studies.  Published via permanent public exhibition in parkland.