From schools to boardrooms: challenges in writing commissioned history
… In her paper at the 2018 PHA Conference, Kate Blake of Worthington Clark compared two milestone histories that she had worked.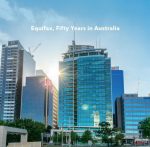 The first project was a 50-year history of Australian company, Equifax. Established in 1967 as the Credit Reference Association, the company's life has so far encompassed eight iterations, including two floats on the Australian Stock Exchange and its sale to the global Equifax, listed on the New York Stock Exchange. The brief was to write a coffee-table book that told the story of those 50 years.
Special features of this project included: working directly with the then-CEO, Nerida Caesar, who was previously responsible for Telstra's large business customers in Australia; interviewing staff, past and present, right up to senior levels; and the use of a personal archive containing early documents provided by the first CEO. Each of these features added a layer of quality to the book.
Having a small and flexible project team meant that we could pivot and respond quickly to change. The interviews gave us access to staff knowledge and expertise—interviewees included former Chair of the Board, Dr Helen Nugent AO. It also meant we could incorporate staff views and voices, which we did graphically in the margins. The foresight of the first CEO to save the early documents allowed us to contextualise the journey of the company, providing a much deeper and detailed look into how it developed in the post-WW2 financial landscape, growing from a basement in Sydney's central business district, with credit records in cardboard shoeboxes to today's vibrant high-tech business that is Equifax Australia.
The finished book is 30,000 words and fully referenced. It addresses not only the evolution of credit in Australia through the eyes of the company but also the public issues that intersected with its growth, including privacy and comprehensive reporting.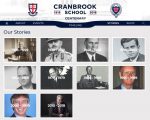 The second project was a 100-year history of an independent school, Cranbrook. The school was founded in 1918 and is celebrating its centenary this year.  With many different events planned, the school was also establishing a Centenary website to bring to life 100 years of the school community. Our brief was to research and write many of the historical stories that now appear on the website.
Special features of this project included a chance to work closely with the school's archivist, under the direction of Cranbrook's long-serving History teacher, Dr David Thomas, who has written two history books to complete the centenary of the school. We also had use of the Cranbrookian magazine, which the school had been self-publishing since 1920.
By the time that the website launched, we had produced around 85 stories, of between 500 and 2,000 words in length, all referenced. Many of these were biographies of former teachers, headmasters, and students. Some were themed, such as the history of cadets, or boy scouts.
These projects have caused me to reflect on some of the challenges in commissioned history.
Limitations: business history has relatively few archival resources. Many of the primary sources are commercial-in-confidence or have been lost over time. This requires a lateral approach, for example using press reports.
References are important for historians but they will also help establish credibility with the client. It's another way to communicate what you've achieved for them.
Relationships: in commissioned histories, we are in partnership with our historical subject ‒ the client will direct the story they want to tell. This a delicate exercise of respecting their story, while also lending your expertise and guiding them to the best possible outcome.
Scoping: is highly recommended because good planning in the initial stages will help you manage both your, and your client's, expectations and assumptions. It also gives you a basis for measuring success and for 'checking in' along the way.
Purpose: historians have an intrinsic belief in the utility and purpose of history but their clients may have a different intent. One of my prospective clients intrigued me when she asked, looking at the 50 Years company history, 'What do you do with it?'. I had not heard it put so succinctly, but it is a natural question when one is faced with a prospective investment. My answer was that besides being a unique gift to the company's clients, the book had alerted the company to the scope of its own story, and it had placed their history within a national story; this was now documented fact.
This touches on a mandate for professional historians. We are striving to reveal history's value, not only to those who are telling the story but also to the much broader and diverse group being invited to listen to those stories. What would your answer be to the prospective client's question, based on a project you're working on, or have worked on?
Kate Blake is a Senior Researcher at Worthington Clark, who undertakes research and writing projects. She will also in the coming months submit her PhD thesis about political  thought  in  Renaissance art. She can be contacted at kate.blake@worthingtonclark.com.