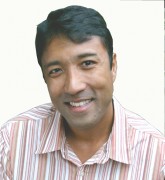 Marc Rerceretnam
PHA NSW Accreditation
Professional Member
About
Yesteryear Heritage Researchers (ABN 36 315 858 978) are Sydney-based experts in historical Australian and international desktop and field research. The principal researcher has 17 years of professional research experience and over 22 years including time completing a doctoral degree.
Yesteryear is a small, flexible and dynamic organisation which can fit in to your organisation's diverse budget and needs.
The fields covered are diverse, from economic development in Western Sydney, children's welfare, transport economics, British colonial administration and government, political empowerment, religious institutions, political movements, family lineages and networks and even the social history of Australian cycling.
Head researcher Marc Rerceretnam is also a 'professional' level member (2017-8) of the Professional Historians Association of NSW & ACT. Marc was also a Local Government Councillor with Ashfield Council (now Inner West Council) from 2004 to 2012.
We also specialise in project managing events and developing media strategies. If you have an event which needs to be contextualized and planned. Talk to us.
Call us on 0426 897 247.
Facebook: Yesteryear Heritage Researchers
Area of Expertise
1. General historical, research and report writing.
2. Editorial of journals, magazines and newsletters.
3. Conducting oral interviews and interpretation of archival materials.
4. House and regional histories and interpretation of archival Council documents.
5. Running surveys on a variety of social, economic and political matters.
6. Implement, organisation and overseeing of public events.
Publications/Past Work
Cycling Communities: Bicycle Clubs in Australia with an emphasis on Sydney, c. 1860s to 2000s

Pending publication date Dec/Jan, 2017/8. Journal of the Royal Australian Historical Society

Bicycle Clubs in Ashfield: A history of the exclusive Ashfield Burrai-beru Bicycle Club, 1890-97

Pending publication date Dec 2017.  Ashfield History

Publisher: Ashfield District Historical Society.

Intermarriage in colonial Malaya and Singapore - A case study of late 19th and early 20th century Asian Christian communities'

Publication date 2012. Journal of Southeast Asian Studies

Journal of Southeast Asian Studies. Vol. 43, No. 2, June 2012.

'Black Europeans, the Indian Coolies and Empire: Colonialisation and christianized Indians in colonial Malaya & Singapore, c. 1870s - c. 1950s'

Publication date 2011. 

Book published in 2011 by VDM Verlag, Germany.

The religious establishment as an arena for anti-colonial expression in the early 20th century: The Case of the South Indian Methodist Church communities in colonial British Malaya

Publication date 2010 publication. SOJOURN

SOJOURN, Vol. 25/2, October 201

Intellectual Assets in Urban Regions: UWS in Western Sydney (co-authored)

Publication date July 2006.

Published by University of Western Sydney

Beyond the Clutches: Responses to the 1987 ISA Arrests and the role of expatriate communities and international Civil Society

Publication date Jun 2006. Copenhagen Journal of Asian Studies

'Stocktake' of NSW as a Knowledge Hub (co-authored)

Publication date 2005.

Published by University of Western Sydney

Innovation at the Edges: An Exploratory Study of Innovation Drivers in South West Sydney(co-authored)

Publication date 2005

Published by WESROC, MACROC & AEGIS University of Western Sydney

Innovative Manufacturing Networks (IMAN): Potential Industry Clusters in South West Sydney? (co-authored)

Publication date 2005.

Published by University of Western Sydney & Liverpool City Counci.