by Yvonne Perkins
Thousands of people have voiced their outrage at the latest illegal demolition of an historic building in Australia. The Corkman Irish Hotel, which had been part of inner-suburban Melbourne since the 1850s, is now a pile of rubble. Damaged a week earlier by a fire the police are investigating, the hotel was torn down last month by its developer-owners without consultation or permits from the Melbourne City Council. The discovery that some of the asbestos-ridden materials were illegally dumped in another suburb added to the long list of laws and regulations the demolishers contravened.
As I noted in my blog post about the Corkman Irish Hotel, illegal demolition is not limited to Victoria. Last year a developer in New South Wales received significant fines for destroying the facades of a row of shops on Parramatta Road in Sydney. Last month two historically significant houses were illegally demolished in Brisbane.
The outpouring of dismay by people in Melbourne has demonstrated how much they care about their history. The National Trust of Victoria has argued that this is not just about a pile of bricks and mortar. The illegal destruction of a building is an attack on a community.
What is the role of professional historians in situations like this? PHA Vic member, Abigail Belfrage has rolled up her sleeves and become involved with the campaign to address this destruction. She kindly answered some of my questions via email. Belfrage has been attending National Trust meetings with stakeholders, assisting with pro bono archival research and sharing the petition to rebuild the pub. She said [by email]:
Through social media and the National Trust stakeholder meeting I've met some other people who are looking at the legal side of the situation and others who are documenting some of the stories about the pub over the years. There are some pretty switched on people out there!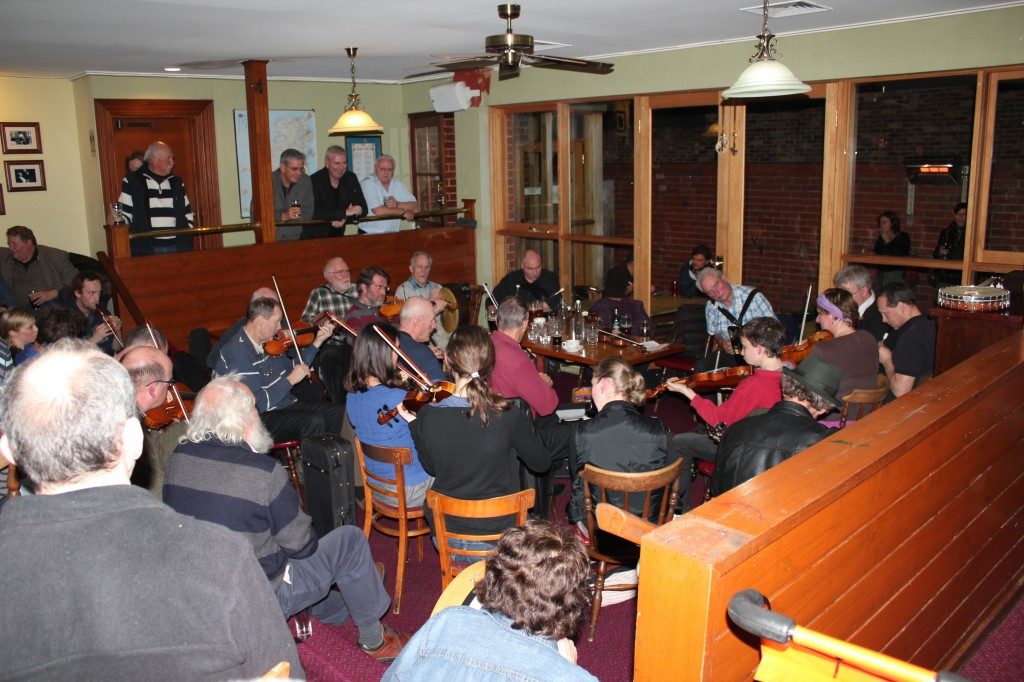 Belfrage's involvement demonstrates how heritage buildings are about community. One of the groups which regularly used the hotel were musicians who played Irish music. 'I am in contact with the community of musicians and pub goers from the old Corkman who met every Wednesday night.' Belfrage already knew some of these musicians, having played Irish music with some of them.
Heritage experts have an important role working with councils and other developers in these situations. Belfrage is keen to recognise their hard work:  'Our National Trust colleagues have been working hard on this issue – they really have their work cut out for themselves and have been liaising with a huge range of affected people.'
Connecting history to new audiences was a key topic at the PHA's 'Working History' conference a few months ago. The illegal demolition of the Corkman Irish Hotel and the involvement of professional historians in this issue is an example of how professional historians can and do become involved with public issues and connect with other audiences. 'We all have to pick our battles', says Belfrage, acknowledging that time and other constraints may limit what professional historians can do.
There are many stakeholders involved in this issue. Trade unions have applied a 'green ban' on work at the site of the Corkman Hotel. Developers will also be affected, not only by any change in penalties and other regulations that may come about but also by the current outcry, which casts a shadow on the reputation of all developers, including those who do make an effort to comply with the law.
Our politics is mired in simplistic binaries, where we position a person as 'good' or 'bad' according to their identity. Yet often the most effective attempts at change come from within a group. More sensitive reflection on the complex history of a place and its culture would surely create more interesting and relevant buildings than the bland concrete rectangles that developers are currently constructing.
The illegal demolition of the Corkman Hotel is an opportunity for our society to re-examine the relationship between history, community and our built environment. It is an opportunity to rethink our approach to our urban development in a way which will foster community development to ensure that our history, our cultural diversity and our present-day needs are woven into our town planning and building designs. The Historic Urban Landscape approach to urban development and the more recent New Urban Agenda adopted this year at the major UN conference, Habitat III, are two international initiatives championing the strengthening of urban communities as the focus of urban development.
Protest is not enough. We have to engage all stakeholders in conversations and processes to help create a more historically sensitive urban environment.
As of today over 19,000 people have signed a petition calling for the Corkman Irish Pub to be rebuilt. The petition is still open for people to sign at change.org.