…Emma Dortins reports on the 40th anniversary of the Aboriginal History journal founded in 1977.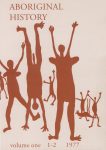 On Friday 27 October, a birthday celebration was held at the Australian National University (ANU), where  Aboriginal History was born and has been based ever since. Ngambri-Ngunnawal elder, Matilda House, welcomed us to Country. Several founding editorial board members were in attendance, including Niel Gunson and Bob Reece. Many more were honoured, including anthropologist and editor of the journal from 1977 to 1982, Diane Barwick, who passed away in 1986, and archaeologist and prehistorian Isabel McBryde who was on early editorial boards and contributed much energy to the periodical.
Lyndall Ryan, who contributed to the inaugural issue of the journal along with linguist Luise Hercus and anthropologists Jeremy Beckett and W E H Stanner, gave a pithy analysis of this first issue. It embodied gender parity among its authors, unusual in 1977, especially in the history field; in several areas it brought the analysis of the past right up to the present; and it mapped out a large diamond of areas of study, encompassing the eastern half of Australia from the Torres Strait to Tasmania.
Reflecting on the history of the journal, Ann McGrath reviewed a sample of the editorial board lists across forty years. This revealed equal numbers of men and women on the board, and its interdisciplinary nature with historians, linguists, anthropologists and archaeologists often represented.
Looking ahead to this anniversary, Bain Attwood wrote an article about the history of the journal for Issue 36 (January 2013), which discusses the reciprocal shaping of Aboriginal History and the emerging field of Aboriginal history itself. Last Friday he emphasised how contingent the beginnings of the journal were. Its inception was controversial. Sir Paul Hasluck felt that developing a field of Aboriginal history studies would erode the assimilation of Aboriginal people into Australian history, society and culture, that he had worked so hard to ensure. Campbell Macknight, on the other hand, explained on Friday that he had been concerned at the time that Aboriginal history not be ghettoised – instead he was ambitious for knowledge about Australia's Aboriginal past to 'scale the fortress of Australian history'. But the founding team at ANU and their supporters were committed to the importance of Aboriginal history as a field – and their vision for this field is clearly set out in Attwood's article.
The ANU event included several roundtable discussions about the present and potential future directions for the journal. Independent film-maker and Kamilaroi/Uralarai woman Frances Peters-Little spoke passionately about how important it is that Aboriginal people continue to have opportunities to record and reflect on their histories, alongside the preoccupation with culture and cultural continuities that has partly emerged from the native title system and discourse. She also emphasised how significant music, film, arts practices and theatre are for Aboriginal people making their histories. She urged the journal to maintain a focus on these areas.
I was asked to talk briefly about possible future directions for the journal in a round-table with Shino Konishi from the University of Western Australia, who was editor and co-editor of five issues of the journal, and Gaye Sculthorpe from the British Museum. I suggested that a closer focus on the history of the past 40 years would be productive. These decades have been a a formative period for the field of Aboriginal history, seeing the revival of Aboriginal people's own history work and history sharing; and the emergence of organisations as well as governance and legal systems that continue to shape history-making. Continuing in the journal's tradition of interdisciplinary work, such attention should reflect on the interaction of these threads.