What is your current position/area of historical interest?
I have worked as a curator at Hurstville Museum & Gallery since 2012. In my role, I develop social history exhibitions with a focus on the St George area. I am currently preparing a WW1-related exhibition for the Anzac Centenary 2015. Another recent project I really enjoyed was collecting memories and photographs from the public about Greek milk bars in the St George area. If you are interested in Hurstville Museum & Gallery's current and past exhibitions, visit the LMG blog.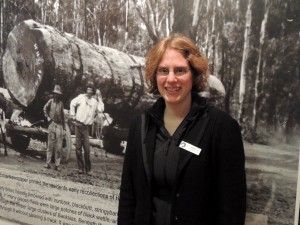 What made you decide to pursue a career in history?
As a child I attended many educational programs at museums on weekends and school holidays. I can remember learning how to wash clothes like in the good old days and sketching knight's armours in the regional museum of my hometown of Wuerzburg, Bavaria. After finishing school, I studied cultural anthropology and European ethnology which examined both humans and their cultural and social behaviour in present day and historical contexts. I concentrated more on the historical aspects of the studies ― I can remember writing an assignment on the history of underwear!
My interest in the culture of religious beliefs brought me to do a PhD at the University of Goettingen. I researched how medieval Catholic relics turned into heritage and historical objects after the Reformation. During my studies I also chose a few courses about museum and exhibition development and had internship placements. I really liked the idea of creating a story about history for a broader audience.
 Who is the audience for your history?
Working for Hurstville Museum & Gallery, my main audience is the local community. Hurstville is very multicultural with a strong Asian population, so we get a great mix of people through our museum doors. I interact a lot with the community as we often encourage the public to come forward with memorabilia and stories for our exhibitions.
What's your favourite historical source, book, website or film?
Photos in general are a fantastic historical source: when used in an exhibition they tell more than 100 words can.
When I did my PhD I also enjoyed handling archival records. It was really great to transcribe documents from the 17th and 18th century and find the specific facts I was looking for.
If you had a time machine, where would you go?
Back to the Age of Discovery. I would love to be on an exploration ship with natural scientists and ethnologists to make really big discoveries. Mapping a region of the world nobody knew existed. How exciting would that be!
Why is history important today?
History puts the present into context. Provenance of a museum object is always important. Without  knowing the history behind the object we don't know its significance.