During the week I am the North Sydney Council Historian which means I have a professional interest in all things historical and heritage related in the North Sydney area. This entails research work, reports to fellow Council employees, drafting interpretative signage, mounting exhibitions, writing monographs, managing the cultural and heritage collections, leading historical tours of the local area, managing Don Bank Cottage/Museum – the oldest timber house on the north shore, caring for the monuments at St Thomas Rest Park – the oldest European burial ground on the north shore, and managing the research collection at the North Sydney Heritage Centre in Stanton Library and answering public queries.
Outside of work at Council my historical interest is in landscape history. I have written a history of Sydney Harbour [ed. which won the  Queensland Premier's Literary Prize for History in 2010] and the NSW Coast. I blog and post Facebook entries about landscape and history at www.ianhoskins.com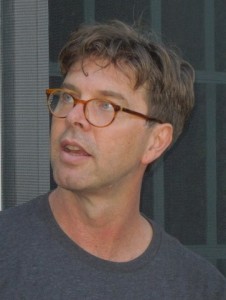 I have wanted to be an historian since I was a boy. I was fascinated with all things relating to World War Two, military aircraft and was endlessly building Airfix models. My interest broadened somewhat at university and I developed a passion for landscape while writing a PhD on the cultural history of parks and gardens in Sydney ― completed at Sydney University in 1996.
Who is the audience for your history?
The audience for my history at North Sydney is potentially anyone visiting the Stanton Library where I am based. These people tend to be living in North Sydney. My historical walks and tours attract folk from all over.
My books are aimed at interested adults ― I like to think of it as scholarly popular history.
What's your favourite historical source, book, website or film?
I'm a fan of historical documentaries and love Simon Schama's History of Britain. I think Neil Oliver's series on Scotland and Ancient Britain are good in that they grapple with landscape and reflect his passion for material culture.
I love sharing a surname with WG Hoskins, the 'father' of local history and historical landscape studies in the UK. I think Raymond Williams' The Country and the City is brilliant. Tim Bonyhady is a favourite Australian historian. I love Alan Atkinson and Inga Clendinnen's work.
 If you had a time machine, where would you go?
I would go back to Surrey in 1939 and meet my parents and my uncle (after whom I am named) on the eve of World War Two.
Why is history important today?
History is important today because it can entertain and educate. It contextualises, 'corrects' and creates connections between so many things. It is fascinating.
[Photo of the gull by Ian Hoskins]