Five minutes with a new PHA NSW & ACT member, Carol Roberts…
Carol has a Master of History (UNE), Bachelor of Arts Majoring in Australian History (UNE), Advanced Diploma Local, Family & Applied History, Associate Diploma in Theory, Musicianship and Criticism (Trinity College of Music, London), Diploma in Community Cultural Development.
What are your current activities?
I am the owner/operator of Hawkesbury Valley Heritage Tours. Tour-guiding has become one of the newer forms of public history. With my tours I research and deliver a full commentary on the history and heritage of the Hawkesbury area. Usually, tours last from one hour to four hours but, on occasions, have lasted a full day (for example tours conducted for Sydney Living Museums [previously Historic Houses Trust NSW], the National Trust and recently, the newly-formed Historic Houses Association of Australia). I also run a blog and Facebook page.
Over recent years I have been closely involved with the Kurrajong-Comleroy Historical Society, capturing the stories of early pioneer families and assisting with the transcription of the parish registers from St Stephen's Anglican Church in Kurrajong. A book containing the first transcriptions, St Stephens Church Kurrajong, Parish Registers 1861-1902, was published in 2013. A further volume will be published in the near future. I have also been a contributing author to the Oral History Association of Australia journal.
At present I am working with the Repair and Restoration Committee of St Matthew's Anglican Church in Windsor preparing for the church's bicentenary in 2017. Anyone with family links to St Matthew's interested in events leading up to the bicentenary should contact the organisers at stmatthewsbicentenary@windsoranglican.asn.au.
What made you decide to pursue a career in history?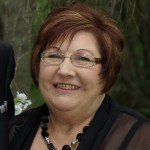 I owe my love of history to my mother, the family historian and keeper of a wonderful photographic record of our family's activities in the Hawkesbury area from the mid-1920s onwards. I am descended through six generations on my mother's side from very early convicts and free settlers in the Hawkesbury area. Growing up in the historic town of Windsor with close connections to St Matthew's Anglican Church, where I was assistant organist for several years, gave me a distinct sense of place and identity. These influenced my decision to pursue a career in history.
My family also had strong links to the RAAF Base at Richmond from when it was first established: my father and his brother served in the RAAF during World War II and for some years after. It was no surprise after graduating from business college that I became a civilian steno-secretary in the headquarters building at RAAF Richmond. During my many years working for the RAAF – from the time of the Vietnam War through to the Gulf War — I was in contact with aircrew who had flown in Britain during WWII, particularly the Pathfinders. I then went to work for the Mayor of Hawkesbury Council, Councillor (Dr) Rex Stubbs, who had a passion for local history. Studying and teaching classical piano has also given me good grounding in the history of music and composition. All these experiences spurred me to formalise my love of history with academic qualifications and to continue my involvement with community organisations concerned with heritage conservation, local history, oral history, music and art. I am currently studying the art-making practices of Hawkesbury artist Greg Hansell. My research over recent years has focused on the representation of history/heritage in art.
Who is the audience for your history?
I think it is important to emphasise the direction in which public history is moving and to recognise that tour guides, artists and performers can contribute their knowledge and skills as public historians, passing on information and history through their own genre.
At present, the my audience is mainly  the people I on my  tours of the Hawkesbury area and those who read the various articles and/or reports I have written for newspapers and journals. As a tour guide I can educate visitors to the Hawkesbury about the area's tangible and intangible heritage, linking that information back to what was happening just over 200 years ago in Australia and overseas, for example the Scottish Clearances.
What's your favourite historical source, book, website or film?
My favourite historical source is the book, closely followed by artworks and documents in print. But also photographs. That is why the collection of early 20th century photographs my mother left me is proving so valuable, particularly when a great deal of our heritage is under threat from development or lack of historical knowledge. Reliable websites can be useful for checking dates and getting a quick overview of history but I always end up going back to books to verify facts. Film has its place as a history source but can often carry a lot of 'artistic licence'.
If you had a time machine, where would you go?
I would make several trips through history. First, I would go back to the 19th century to observe the people who had the foresight, vision and tenacity to establish the cities, towns and villages we live in today. Of particular interest would be the land dealings, relationships and attitudes in the early days of the colony between convicts and early settlers, particularly the Irish. Perhaps I'd hop over to England in the mid-1700s to follow my father's Lincolnshire ancestor, Dr Richard Cammack, pursue his career as a surgeon in the Royal Navy and then to Scotland and Ireland to trace my daughter's Norman De Vaux family. As an indulgence, I would go back through the centuries to watch the rise and fall of the Knights Templar, although I would make sure my time machine was ready for takeoff at a moment's notice!
 Why is history important today?
History is important because our collective memory, as distinct from individual memory, helps to navigate the way through the future. It acts as a guide in determining political policies and in our relationships with other societies. Historians are always searching through sources to try and find new understanding of past events, to shed new light or more accurate information on an historical perspective. It is the changing perspective that ensures history will remain alive in people's minds, whether that history is oral, local, family, national or international. The challenge for historians will be to continually reach out for the truth and make sure history remains visible.