…Birgit Heilmann reports
The 2015 Public History Prize was awarded to Imogen Dixon-Smith (pictured right) for her essay, Keeping up with the times: Complicating understandings of gender at the historic house Meroogal.
The judges, current chair of the PHA NSW & ACT, Dr Mark Dunn, and Dr Catherine Bishop, Historical Studies Research Concentration Coordinator at the Australian Catholic University, were unanimous that this paper was the standout in a strong field of entries. Imogen's essay was part of her Master's thesis in Museum Studies at Sydney University. She investigated the way gender is represented at Meroogal, a historic house in Nowra run by the Sydney Living History Museums.
The judges awarded a Highly Commended citation to Claire Ogle (pictured left), whose project, Gumine Oral History Archive was undertaken as part of a Bachelor of Arts at Sydney University. Claire created a website to preserve oral histories of elders in Papua New Guinea, as well as present some breathtaking photographs.
Congratulations to both students for their excellent submissions!
Slight changes in the condition of entries increased this year's submissions. The 2015 Public History Prize was open to any student (undergraduate, graduate diploma, master studies) in NSW and ACT whose work engaged with the field and practice of professional and public history (both Australian and international).
We received 18 high quality submissions. These were a mix of more traditional essays and other project types, including an outline for a play and website projects.
For the first time, the prize was awarded at its own event and not, as in previous years, as part of the 'History in July' event. About 30 guests, including members, students and guests attended the award night at History House on 1 March 2016. Besides the official presentations, everyone enjoyed social conversations, cheese and drinks.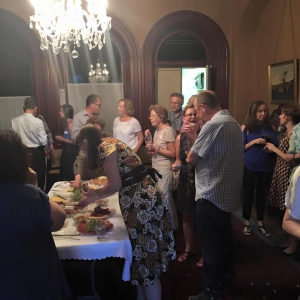 Before the prize was officially awarded by the judges, three PHA NSW & ACT members each gave a five-minute presentation of their current work. Pauline Curby spoke about Aboriginal place names in Sutherland Shire; Dr Ian Willis talked about his research into the Red Cross and the Liverpool Field Hospital; and Dr Judith Godden made a presentation about a blind woman's vision for mental health.
Entries: Public History Prize 2015
Shayma Taweel: 'A place to heal': memorialising the Appin massacre in the era of reconciliation.
Ian Dehlsen: Anzac Parade and our changing narrative of memory.
Geraldine Fela: Balls and Chains: Reconsidering separatism in the Australian gay liberation
movement of the 1970s.
Cassandra Watson: Callan Park Writers Walking Tour.
Claudia Howarth: Comedy in Canberra? It's an inside joke.
Alannah Westcliffe: Crossing the yellow line: how local Tasmanian activiam effected state, federal and international change.
Claire Ogle: Gumine Oral History Archive.
Joshua Favaloro: Haberfield online: Discovering Australia's First Garden Suburb.
Davida Ivey: History Capstone Report.
Imogen Dixon-Smith: Keeping up with the times.
Kieran Pender: Red Scare On Ice.
Sara Golru: Redfern Legal Centre – Achievements and Highlights.
Madeline Fisher: The Chef's Dilemma: A Play.
Aidan Beiboer: The Civic Theatre – A History.
Ruby Arrowsmith-Todd: The community media bus, rides again.
Louise Waugh: Thomas Dix: An invisible individual stick within the historical scholarship of the Newcastle Miners' Association bundle,1887-1892.
Adelaide Welling: Willoughby Girls Podcast.