…by Stephen Gapps…
The 17th of April 1816 is not a date etched in wider Australian memory nor even that of Sydneysiders concerned about their past. However it is imprinted in the memory of descendants of Dharawal and Gandangarra people who were massacred by a military expedition sent out on the orders of Governor Lachlan Macquarie to 'punish the hostile natives by clearing the country of them entirely'. The 14 Aboriginal men, women and children as well as an unknown number of others who may have fallen over cliffs to their deaths, were not 'hostile' and had no chance to defend themselves as Captain Wallis led his detachment in a surprise night raid on a sleeping encampment, just near Appin not far south of Sydney.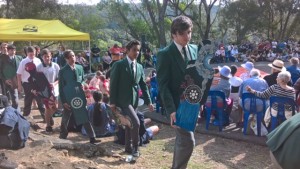 [Image: students with plaques representing the 14 known massacre victims]
This attack was the last known conflict in the warfare that had taken place across the Cumberland Plain around Sydney since the arrival of the First Fleet in 1788. The military expeditions and Macquarie's resolution to 'chastise these hostile tribes' ended any resistance in the Sydney region. It also formed a template for future operations as the colony expanded beyond the mountains that had contained white settlement until 1813.
The Appin Massacre should be a prominent part of Sydney's history and remembrance. In the last decade it has begun to be. What began as a few Dharawal descendants visiting the massacre site and scattering flowers every year, grew in recent years to be a focus of the Winga Myamly reconciliation group. A plaque was placed at the Cataract Dam, near the massacre site and a growing group of descendants, local Aboriginal people and their supporters has attended the annual commemoration at the dam picnic area since 2000.
This year, the 200th anniversary of the massacre, the ABC reported that around 1000 people attended. For the first time, the anniversary drew significant media attention on radio and television as well as in the press. Indigenous artists responded to the events in an exhibition at Campbelltown Regional Gallery.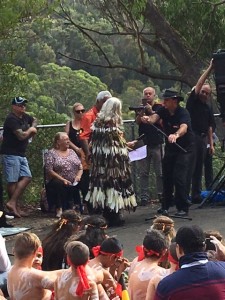 Prominent in speeches during the ceremony was a call for a broader remembrance of Indigenous dead in the warfare that occurred across Australia from 1788 right into the early 20th century. Calls were specifically made for a national memorial, separate to any other.
The complex histories of the massacre of and resistance by Indigenous Australians are gaining traction in broader remembrance. The politics of their representation in Australian history have a long way to run.
[Image: Fran Bodkin gave a talk in Dharawal language]
Stephen Gapps is writing a military history of the Sydney region 1788 to 1816.
Images by Stephen Gapps