Post by Yvonne Perkins
"I thought it was amazing", enthused Robyn McConkey of North Sydney at the end of a history walk conducted by professional historian, Dr Ian Hoskins.
A group of about thirty walkers had gathered three hours earlier outside Shore School in North Sydney for the walking tour, 'Following Photography' Footsteps'. The school is on the site of Holtermann's Tower built in 1874 by Bernhardt Holtermann for the purpose of taking photographs.  The walkers were keen to learn more about Holtermann and the Harbour Bridge photographer, Frank Cash, and their connections to the local area.  As the historian for North Sydney Council, Hoskins has done much research into the history of the North Sydney which he shared during the walk.
I joined the tour to hear some history, breathe in the fresh air and get some exercise after a busy round of indoor sit-down (and stand-up) events during the week.  It has been History Week and this walking tour was one of the events.
One of the walkers, Merv Leonard, joins many history walks, including others conducted by Ian Hoskins. Merv likes how Hoskins can answer questions authoritatively.  "He doesn't say, 'I'm not sure'".
Jenny Chambers from Brisbane also appreciated the depth of historical knowledge held by Dr Hoskins.  "It's not easy telling statistics off the cuff."
Every community has members who are passionate and very knowledgeable about their local history.  Trish Wilkins from Lavender Bay is one.  She has lived in the area for thirty-nine years. Trish became so interested in its history she went to Mitchell Library to search for pictures to see what the landscape used to look like. This was about twenty years ago.
"What I love about this area is that a lot of these [historic] layers are exposed", Trish said, regaling me with interesting historical facts about the area.  This is exactly what a historical walking tour can do, unlock the layers and give meaning to them.
A walking tour is a sensory experience. Walkers can see the dimensions of buildings, they can hear the historian's commentary, which gives them a greater understanding of the context in which they were built, and they feel the topography through their feet and legs.  No book or photo can convey this quite as well.
A historical walking tour is interactive.  While the historian is responsible for the narrative, participants ask questions, make comments and share their knowledge too.  Here is a chance for the public to contribute as well as receive historical information.  Walking tours also give historians a chance to develop a personal connection with members of the public passionate about history.
Historians who conduct history walks not only need a deep knowledge about the area, they are also responsible for the health and safety of participants.  At the start of the tour Hoskins explained that both he and his colleague had first aid qualifications and that they had cabcharge vouchers for anyone who may find that they could not walk any further.  He finished the safety note by requesting that all walkers obey traffic lights.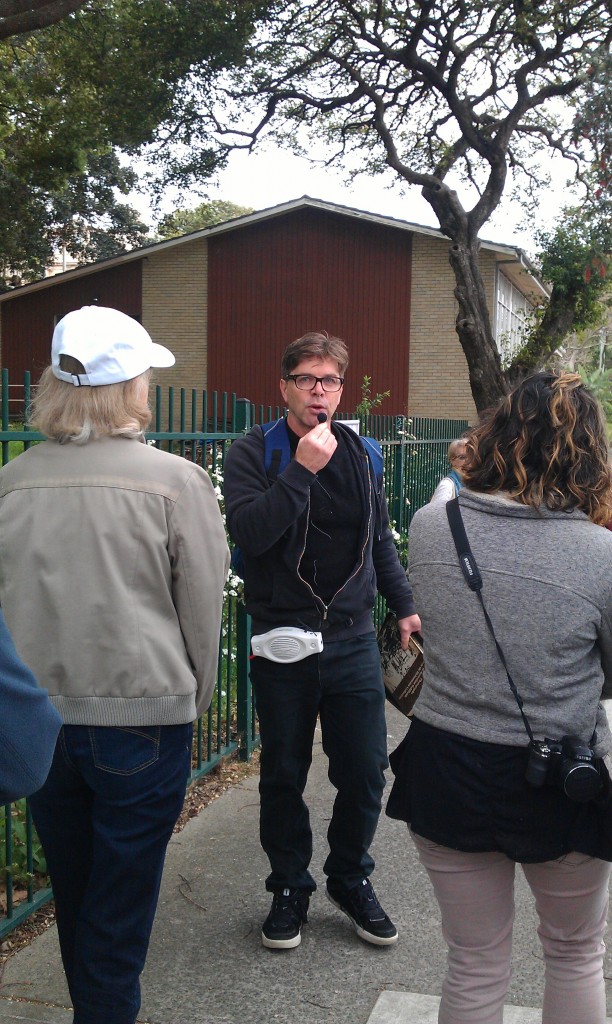 Some form of amplification for the tour guide is necessary, particularly when there's a large group.  Hoskins wore a small microphone and amplification unit, which works better when he faces his audience, so he has become adept at talking while walking backwards.
This three-hour walking tour cost $10 which included coffee/tea and biscuits at the conclusion of the walk at Sydney Observatory.  Merv Leonard supported this price.  He had seen some historical walking tours advertised for $30 per participant, which he thought was much too expensive.
By the end of the tour some participants were keen to do more history walks.  One suggested  it would be good to have one website which lists a schedule of all the history walks conducted in Sydney.
History and gentle exercise is a great combination.  Ian Hoskins made it look easy but the historian who conducts a history walk is kept on their toes not only due to the physical activity, but also by having to look after participant safety and respond to questions and comments.  The walkers on Hoskins' tour  appreciated being able to learn from his expertise through such a pleasant activity.  It was a good example of public history at work.