… introducing PHA NSW & ACT member, Katrina Kittel, whose interest in history was re-ignited when she started investigating her father's wartime experiences.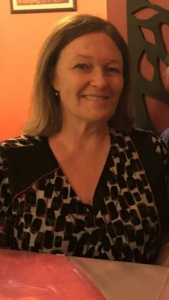 What made me pursue history?
Three decades ago I completed my first tertiary qualification, a degree in history. I changed direction with studies in other disciplines and entered a career within administrative, research assistant and librarian roles at The University of Newcastle.
In 2011, I fell back into the discipline of history following a nonchalant search for information regarding escaped prisoners-of-war in Italy during the Second World War. My father was one of those men, and as my son desired to wear his medals, I considered it time to find out more. Late night internet cruising took me to a website publication which included several photos from my father's collection. Within days, I spoke to the site author, former prisoner-of-war Bill Rudd. He revealed that like my father, he had been taken prisoner at Alamein in July 1942, transported to Italian camps, and subsequently escaped across the Alps into neutral Switzerland. Bill Rudd OAM, a retired geologist, had become a researcher of significant contribution; his site www.anzacpow.com is preserved in Pandora.
We became regular correspondents. Bill flagged his interest in compiling a nominal roll of Australian prisoners-of-war in Italy, working from the British War Office prisoner-of-war lists of 1943. This project involved viewing the service files for over two thousand servicemen as well as other relevant primary or secondary sources as accessible. I jumped at the chance to assist a 95 year-old veteran who was a dedicated historical researcher. With only a small percentage of archival sources being digitally accessible, I made trips to Canberra and Melbourne to dig amongst the hard-copy collections. The project parameters were broadened beyond a nominal roll to include camp locations and movements, escapes, episodes of evasion, recapture and deaths. We noted details for those who were not identified as POW on the Department of Veterans' Affairs online WWII Nominal Roll or listed on the Ballarat Prisoner of War memorial. Corrections were subsequently made.
The history had me hooked. I set about contacting as many veterans and families of veterans, as possible. The sharing of images, memoirs and documents, still continues. From what began as an interest in my father's experience had extended to his POW cohort. Articles have been written for regional newspapers, Unit Associations, Military Historical Society of Australia's Sabretache journal, and Department of Veterans' Affairs 'Our Mob serving country' site.
What are your favourite historical sources or sites?
My enjoyment of reading first-hand accounts led to the idea of writing a book that weaved multiple voices of escaped prisoners of war in Italy between 1943 and 1945. I was nudged by one veteran who considered that the stories of POW in Italy were lesser known as compared to counterparts who were in captivity in Japanese or German hands. The Italy POW accounts revealed convergence of themes and divergence of witness detail, but overall an illustration of their unique context of captivity, escape and evasion. That book is nearing completion.
I look forward to visits to National Archives reading rooms in Canberra and Melbourne, with the anticipation of a tall pile of pre-requested files. There are the 'quiet' files, but also the records that reveal unexpected tangents to pursue, with information that is beyond that of the nominal roll project.
In my attempt to locate villages and refuges of respite, and the routes taken by escapers as outlined in their reports and accounts, I scrutinise Google maps and street view images that fit the route. My first exploration of Europe was via such two-dimensional field trips.
In 2013, a trip to Italy, Switzerland and Slovenia took me and my husband to some of these 'historical sites' where prison camps were situated and trails and passes had been trodden by escapers. We met elders who had encountered escaped prisoners. We spent time with an Italian-born son of a New Zealand escaper. In company with an interested Swiss Army archivist, we walked part of the Swiss-Italian Alps on trails used by wartime refugees and prisoner escapers. Red poppies were placed at Milan and Udine CWGC sites for the men who died in captivity or during evasion.
Who is your audience?
About two thousand Australians were prisoners-of-war interned in Italy. Not all returned servicemen spoke of their war service. While the veterans of the Second World War become fewer, their descendants remain interested in how their men experienced war.
Italian researcher colleagues continue to provide information and images as they learn more about Allied escapers who sheltered in regional villages and fought with partisan brigades.
In my current role as a librarian who works in public libraries, I see interest from general readers for new biographies and works of historical narrative related to war.  It is hoped that the escaper experiences as narrated within my book will illustrate the unique context for POW in Italy and add more to the literature regarding escape and evasion. And, at the time of typing, I contemplate the pursuit of a research higher degree.
Photo: Macugnaga, at the Italian-Swiss border