by Judith Godden …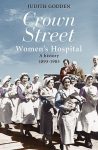 At last! After some four years' delay, my history of Sydney's baby factory, Crown Street Women's Hospital, is out! Published by Allen & Unwin, Crown Street sheds light on Sydney's social history as well as international issues in women's health. It also has some lessons for today, though I normally reject that proposition as lessons from history are notoriously ambiguous (other than not invading Russia in winter, but that's not something many need to know in everyday life).
Here are four things we can learn from Crown Street:
1. Religious/charity-run institutions are not necessarily more caring that secular ones. Crown Street was secular and didn't even have a chapel, yet it was the hospital that traditionally admitted the most public patients. One result was that 'Mum' Shirl and others claimed that some 90 per cent of Sydney's Aboriginal women had their babies there.
2. Illegal abortions were rife, especially Surry Hills where Crown Street was located. It was the hospital where women went after those abortions were botched or became infected. Oral history reveals a constant trail of (literally) bloody, desperate women clawing their way into the Hospital – sometimes after being pushed out of a car as it quickly stopped outside. That carnage virtually stopped over night when Justice Levine's 1971 ruling effectively decriminalised abortion. Crown Street demonstrates that the key issue has always been, not whether abortions occur, but whether they are criminal acts or not, and their consequences.
3. People cared passionately about their hospital. The personal connection so many people felt with Crown Street – the reason for the mass protests when it closed – is mostly a thing of the past. One reason for the strength of that bond was because seriously-ill public patients knew that at least some senior practitioners deeply cared about their survival. Who could measure the impact when, for example, one woman discovered that the person who had sat by her bed offering comfort during a long, grim night was no less than the legendary Matron, Edna Shaw?
4. The value of personal support. This relates to the PHA too – of the PHA's many services, one of the most valuable is the support we give each other. At a bleak time when we feared that the Crown Street book could never be published, Laila Ellmoos proactively offered support in her role as PHA President. Most valuable perhaps was a chat over a cup of coffee before a crucial meeting. Not all the PHA does can be measured; sometimes the best help is moral support to persist with a project; someone just letting it be known that colleagues care and the PHA will act if needed.
Photo by Philip Crowe: Book launch showing Prof. Stephen Garton (who launched the book), Judith Godden, and Dr Ray Hyslop (chair of advisory committee)