Sue Castrique explains…
Some of the surprising users of the National Library of Australia's Trove are knitters. In 2012, Rose Holley at the NLA noticed that, while the most popular searches were for births, deaths, marriages and murders, there was a strong trend for knitting patterns. For a while, 'knitting pattern' and 'knit + cast on' became a more popular search term than 'death'.
Trove had been discovered by Ravelry, the international online community of knitters and crocheters, who have become some of its most passionate users. A group entirely devoted to Trove was created on Ravelry to load vintage patterns from Australian newspapers and the Australian Women's Weekly (AWW). Although family research has resumed its dominance on Trove, Ravelry is still one of its largest referrals as people correct and share knitting and crochet patterns. In recognition, the NLA has put a link to Ravelry on its AWW page.
Knitting patterns have been a consistent feature of the Women's Weekly since it started in 1933, but they also regularly appeared in newspapers. The first was the Australian Home Companion and Band of Hope, a temperance journal in 1860, and by 1900 they were a feature in newspapers in every state and country town. The craft boomed during the first world war as knitters produced socks for the troops, and then as a way to make garments for the family during the depression. But by the 1970s, newspapers no longer carried patterns and public knitting had disappeared.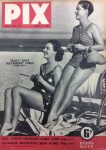 On Ravelry there are now almost 1600 patterns sourced through Trove. Almost 500 of them come from AWW and the remainder from Australian newspapers. They include everything from knitted bathing suits, underwear and balaclavas, knitted by people in Germany, Canada, Sweden and UK. The most popular patterns are a toy elephant (1959), lace gloves (1942), both from AWW, and a patterned knitted square for blankets from the Dawn (1899).
There were probably many factors that overwhelmed the craft in the 1970s: manufactured knitwear, man-made fibres and the increasing number of women in full time-work that took them out of the house and into the office.
But the sharing on Trove suggests that knitting has been revived. One of its most interesting forms is 'craftivism'— the intersection of craft and political activism. Leanne Prain from Canada recently discussed craftivism at the State library of NSW, talking about how narrative can be expressed through cloth and needle. There have been AIDS memorial quilts; yarn bombing, which began in the United States about 2007; and the UK-based 'Craftivist Collective', which created cross-stitch patterns encouraging people to go out and vote in last year's UK elections. In Australia there are the 'Knitting Nannas Against Gas' (KNAG), based in the Northern Rivers of NSW. They usually knit in yellow and black, making triangles to identify with 'Lock the Gate' signs; strips to throw across gates and prevent entry by drilling rigs; and cushions for long days of protesting. Knitting is their tool for political activism, but they also see knitting 'as less important than the act of bearing witness while we knit'.
Probably the most striking manifestation was the Women's Marches the day after the inauguration of Donald Trump. Tens of thousands of women wore pink pussyhats. Started by two women in Los Angeles with a pattern devised by a local yarn store, it was assisted by several newly-created Ravelry groups, which estimated 32,000 hats had been knitted. On the day it was a sea of pink. When a pussyhat landed on the cover of Time the pink-knitted hat was endorsed as a symbol of protest and resistance.
Thanks to: Rose Holley, Ellen Forsyth (SLNSW), Leanne Prain, Jess (Trove Support), Catriona Bryce.